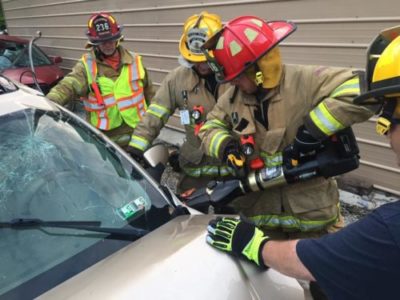 Don't settle for less!
Extrication Work Gloves
A tough job requires a tough, high-performance glove to keep your hands safe from cut, puncture and laceration hazards at an extrication scene. But you shouldn't have to compromise dexterity and comfort.
FX-54
Gladiator Extrication Work

Glove
Superior Protection!
Gauntlet or Wristlet style
Two continuous layers of cut protection
Optional moisture barrier is durable and is guaranteed against inversion for the useful life of the glove
Easy on and off, wet or dry
No-slip grip
Suitable for medium cut hazards such as auto extrication, metal fabrication
and metal sorting activities
Cut resistance performance level A5
(ANSI/ISEA 105-2016 Section 5.1.1)
 Warranted to be free of defective
materials and workmanship for the
useful life of the glove
Size availability: 2XS through 3XL
Item# FX-54
MSRP $43.00
Item# FX-54MB with moisture barrier
MSRP $51.00
Find your local dealer HERE
FX-66 
Spider Extrication

 Work Glove
Cut-level 5 on palm and cut-level 4 inner layer. The result is a snug fit with incredible grip!
Snug fit = better dexterity
and grip
Super easy on/off, wet / dry
Non-slip Spider grip
Suitable for medium cut hazards
such as: metal fabrication, HVAC and
extrication work
Cut resistance performance level
A4 (ANSI/ISEA 105-2016 Section
5.1.1
Warranted free of defective
materials and workmanship for the
useful life of the glove
Size availability: 2XS through
3XL
Item# FX-66
MSRP $30.00
Find your local dealer HERE
FX-95 
Warrior Safety

Glove
The first glove to combine the liquid penetration protection of Porelle® with the level-4 cut resistance of Spectra®extrication work glove
Hi-Vis green
Optional moisture barrier is durable and guaranteed against inversion for the useful life of the glove
Easy on and off, wet or dry
No-slip grip
Suitable for medium cut hazards such as auto extrication, metal fabrication and metal sorting activities
Cut resistance performance level A5 (ANSI/ISEA 105-2016 Section 5.1.1)
Warranted to be free of defective materials and workmanship for the
useful life of the glove
Size availability: 2XS through 3XL
Item# FX-95
MSRP $33.00
Item# FX-95MB with moisture barrier
MSRP $41.00
Find your local dealer HERE