Fire Shows
We will either be attending or have a booth at these 2018 fire shows. Please arrange to meet us!
| Event | Dates | City |
| --- | --- | --- |
| Fire Rescue East | January 17-20, 2018 | Daytona Beach, FL |
| Firehouse World | March 4-8, 2018 | San Diego, CA |
| FDIC | April 23-28, 2018 | Indianapolis, IN |
| PA Fire Expo | May 18-20, 2018 | Harrisburg, PA |
| IAFC / Hazmat Conference | June 7-10, 2018 | Baltimore, MD (Hilton Booth #216) |
| Fire Rescue International | August 8-11, 2018 | Dallas, TX |
| Firehouse Expo | October 16-20, 2018 | Nashville, TN |
Congratulations to our Team FireCraft Men's Team for their exceptional performance!
Our Men's Team took first place in the Team event and Relay at the Combat Challenge Florida Regionals in Fort Pierce Florida the weekend of the September 13th. Three of the men placed in the top 10 as individuals in the open division and Steven Schreck placed 2nd in the over 40 division! Way to go, Team FireCraft! Congratulations!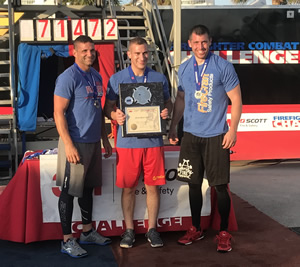 We are ISO Certified!
ISO 9001 Certified" means an organization has met the requirements in ISO 9001. ISO 9001:2015 is focused on meeting customer expectations and delivering customer satisfaction and product safety.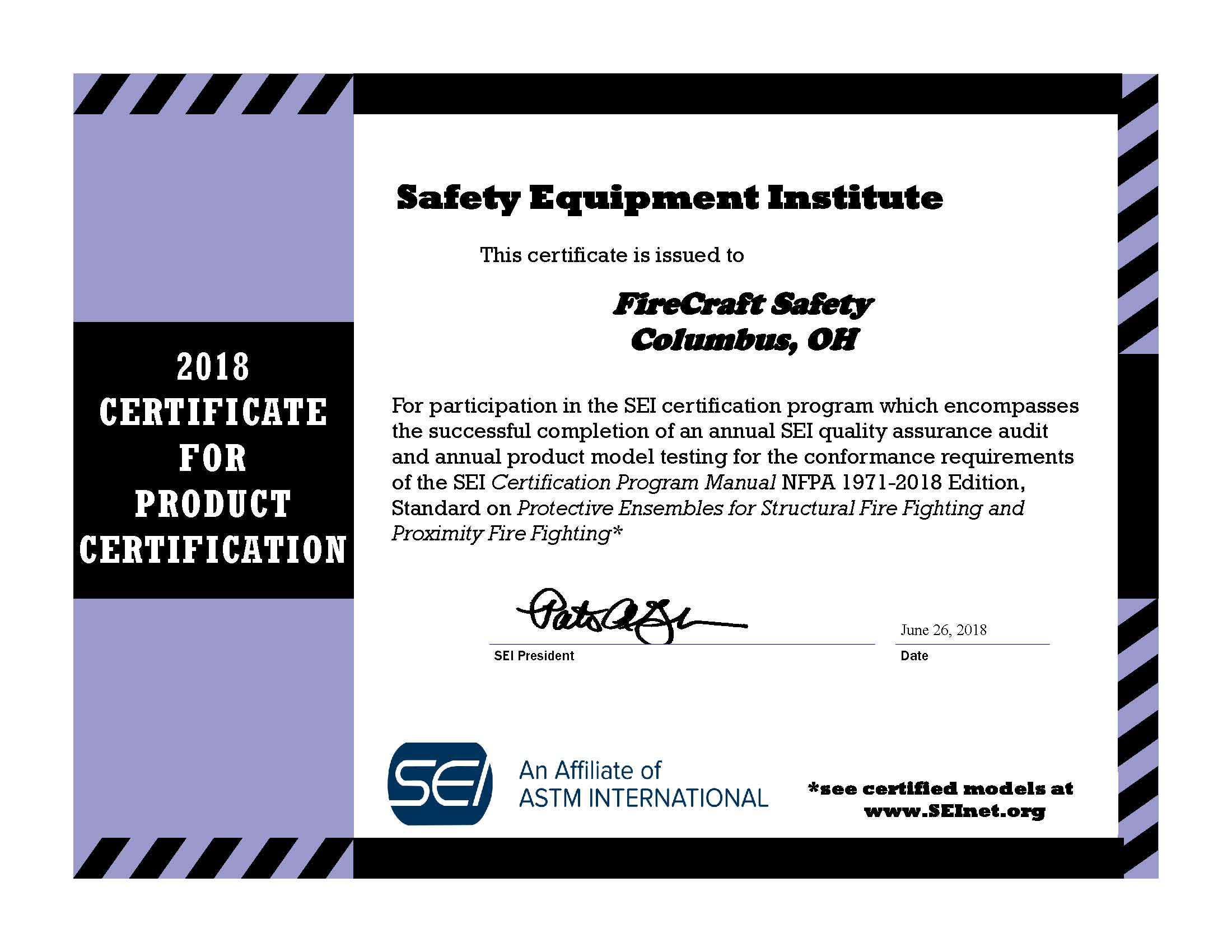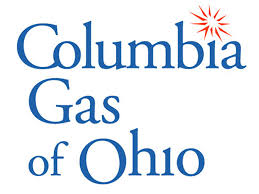 FireCraft® is proud to receive Sensit Technologies' 2017 Distributer of the Year Award! We're honored to be affiliated with such an exceptional company and outstanding people.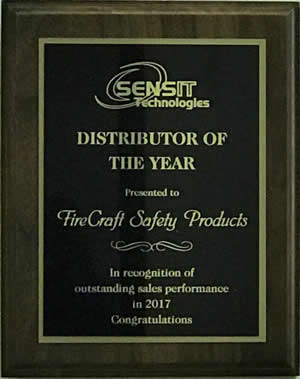 Congratulations to our Men's Combat Challenge team on another successful year! They had a solid showing at the U.S. Regional's, U.S. National's and World Challenge XXVI this year. Here are some photos and a list of their seasonal highlights.
U.S. Regional Competitions
FDIC Regional Top 10 Finish - Ben Pritchard 7th Place Open Male
Apopka FL Regional Top 10 Finish - Ben Pritchard 4th Place Open Male
Elkhart IN Regional Top 10 Finish - Jeff Vater 4th place Open Male
Elkhart IN Regional Top 10 Finish - Ben Pritchard 9th Place Open Male
Land of the Ozarks Regional Top 10 Finish - Jeff Vater 2nd Place Open Male
U.S. Nationals
Best of the Best - Hose Hoist - Jeff Vater 1st Place
Best of the Best - Dummy Drag - Jeff Vater 1st Place
1st Place Tandem - Jeff Vater & Matthew Baca
World Challenge XXVI
International Team 3rd Place
International Relay Team 4th Place
Top 10 Finish - Jeff Vater - 6th Place Open Male (PR 1:21.91)
Ben Pritchard - 58th Place Open Male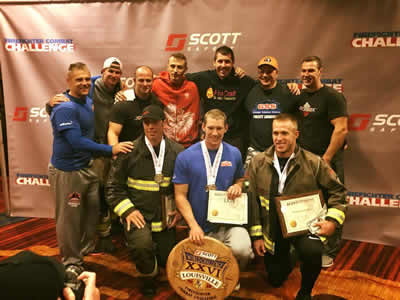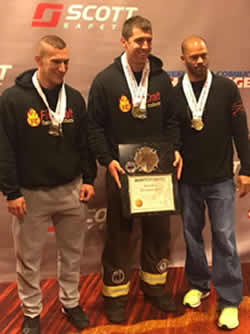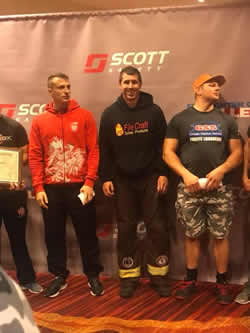 More news on Team FireCraft members and their outstanding performance at the Scott Firefighters' Combat Challenge:
Irena Elmstrom placed 1st at Nationals with David Bowman in Co-ed tandem at the US Nationals in Tyler TX. Congratulations, Irena and David!
The excellence continued at the World Competition in Louisville last weekend:
The women took second in the 2017 World Championship Firefighter Combat Challenge Female Relay.
Brittany Hoffman, the newest member of Team FireCraft, took second in the World Individual.
The Challenge seeks to encourage firefighter fitness and demonstrate the profession's rigors to the public. Wearing "full bunker gear" and the Scott 5.5 Air-Pak breathing apparatus, pairs of competitors race head-to-head as they simulate the physical demands of real-life firefighting by performing a linked series of five tasks including climbing the 5-story tower, hoisting, chopping, dragging hoses and rescuing a life-sized, 175 lb. "victim" as they race against themselves, their opponent and the clock.
Congratulations to all competitors!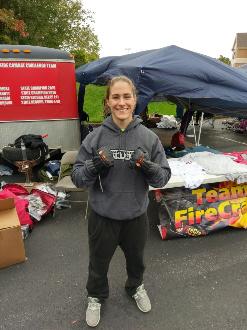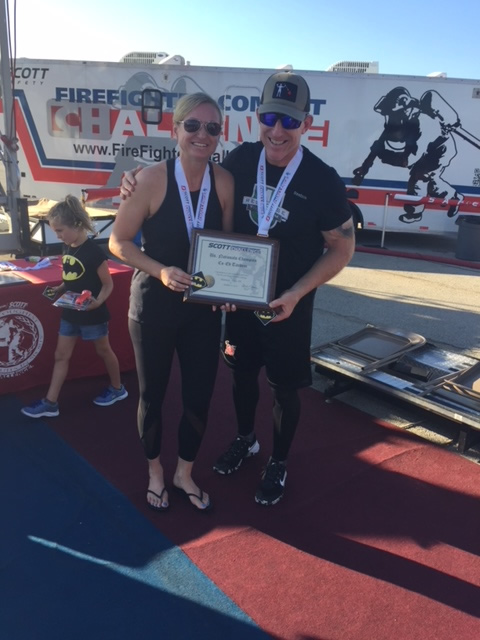 Scott Combat Challenge Lady Champions!
Congratulations to two of our Team FireCraft members - Jacqueline Palmer and Irena Elmstrom - for their outstanding performance at this year's Scott's Combat Challenge National Championships!
Jackie is the 2017 Female National Champion!
Jackie and Irena, competing under the name "Femme Firecraft", are the 2017 Female Tandem Champions!
We would like to congratulate all participants – this is one tough event! Click
HERE
for more information and to read about the challenge.