FireCraft® trACer™
Non-Contact AC Voltage Detector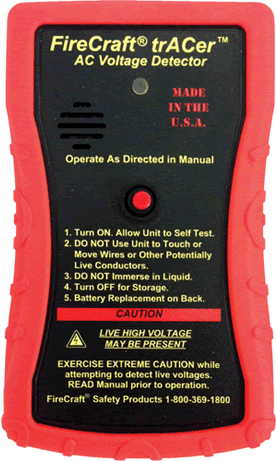 Exclusively from FireCraft®- Be Prepared, It Could Save a Life!
---
Detects AC Voltage at a Safe Distance
Pinpoints Direction of Downed Lines
Detects Power in Unused Outlets
Fits in Pocket for Hands-Free Use
Audio and Visual Signals
Storage Case And DieHard® Battery Included
Reduced "excess chatter" or "false positive readings"
Advancements with engineering and programming
MADE IN THE U.S.A.
Specifications
---
Housing: Injection moulded ABS with Hi Vix red silicone protective boot cover
Housing Size: 5.5" x 3.25" x 1.031"
(140 x 82 x 160 mm)
Battery: One (1) 9 - Volt alkaline battery
Self-Test: Internal five (5) second built-in test function after turn-on. Test includes battery charge level. Built-in low battery warning.
Design: Unit is digital
Frequency Range: Detects AC Voltages from 40 to 70 Hz.
Warning Signal Indications: Both audible (beep) and visual (LED) signals increase or decrease frequency depending upon proximity to AC voltage source.
Weight (with battery): 0.6 lb (0.3 kg)
Switch: Single on/off switch
Water Resistance: Splash proof
Operating Temperature Range: -22° to 122° F (-30° to 50° C)
Storage Temperature Range: -40° to 158° F (-40° to 70° C)
View the Instructional Video >>
Why use the FireCraft® trACer™?

Because it makes the difference in a life or death circumstance and it only takes a few seconds. Use the FireCraft® trACer® non-contact AC voltage detector easily and from a safe distance to determine if a downed power line is charged or if a circuit in a structure is live.

In most cases, a downed power line is rendered "safe" by the safeguards built into every power company's distribution system, usually in less than 30 seconds. However, every downed line and every structure's wiring must be considered live - ALWAYS.

Why? If there is a backup generator on the line and it is not wired properly, the "downline" wire may be hot. Or let's say you pull the meter on a house. That house can still be "hot" if there is a standby generator or solar panels on the roof feeding those circuits.

Even if you have a cut power line touching the ground, don't assume that it triggered the breaker. If the ground is dry sand, for instance, it will not cause the circuit to trip as there is not enough moisture to transmit the current to ground.


---

Firecraft© trACer-3
---
For a Firecraft© dealer near you go to the Dealer Locator page or contact FireCraft© to find your dealer.