SENSIT® Gold G2

Personal Gas Monitor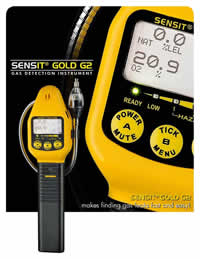 ---
The SENSIT® GOLD G2 is the most versatile and user-friendly SENSIT hand-held gas detector available. The "G2" can be configured for combustible gas readings in PPM, LEL, and /or percent volume, as well as a variety of toxic sensors and oxygen. The SENSIT® GOLD G2 is ideal for leak location and confined space applications.
Digital "Tick" Control for fast leak pinpointing
LED warning lights and loud audible alarm indicating potential danger
Internal memory stores operational and calibration data
Battery strength indicator
Exceptional water-resistant housing
---
For a Firecraft© dealer near you go to the Dealer Locator page or contact FireCraft© to find your dealer.