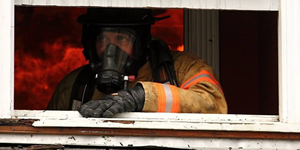 NFPA certified structural firefighting gloves will give you longer wear, protection, fit and the superior dexterity you need for the toughest, most dangerous jobs. All FireCraft® Gloves come with a Lifetime Warranty on Workmanship and Materials.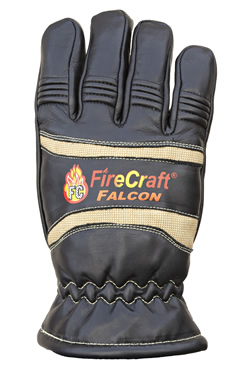 New! The Falcon Structural Glove
FireCraft combined the toughest (and softest) leather-kangaroo-with TenCate's new Kombat™Flex fabric containing PBI® to produce a truly unique structural fire glove.
Greater flexibility
Longer lasting
Enhanced thermal protection
Designed to conform to the new NFPA sizing protocol
Lifetime warranty of workmanship
Available in Gauntlet cuff and Kevlar® Knit Wristlet
Sizes from XXS TO 3XL
Cadet sizes available in all styles– at no extra cost
Item# FC-P7000
The most dexterous and long lasting fire glove you can buy today.
---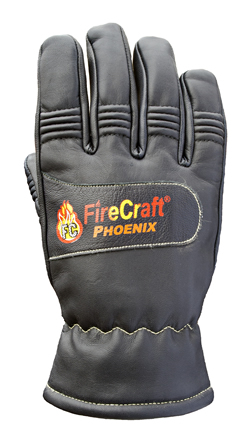 The Phoenix Structural Glove
Exceptional fit - No bunching of material in the palm provides superior dexterity and reduced hand fatigue.
Vastly superior finger design - fingertips touch the ends of the glove
Can change radio channels while wearing gloves!
Secure grip, wet or dry
Fas-Dri™ leather assures rapid drying after use and allows gloves to remain supple
Available in Gauntlet Cuff and Kevlar® Knit Wristlet
Sizes from XXS to XXXL
Cadet sizes available in all styles
Item# FC-P5000

Better Fit By Design! Try one on. We think you'll see the difference!
Product Brochure >>
---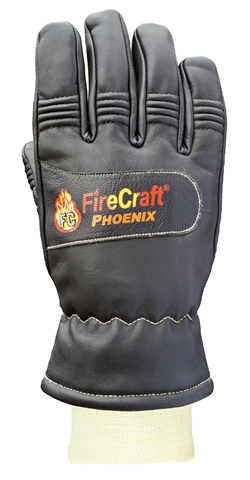 The Phoenix Structural Glove Wristlet

Our outstanding Phoenix Structural Fire Glove with added Kevlar wristlet for enhanced protection.
---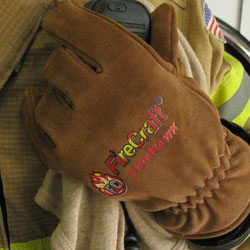 FireHawk Structural Glove

An economical glove with top-end performance.
TPP exceeds 60
Great dexterity
Excellent thumb rotation
Minimum seam stress in the palm
Available in cadet sizes
Cowhide leather
Item# FC-P2000
FireHawk, FC-P2000W
The FireHawk Structural Fire Glove FC-P2000W offers the added protection of a Kevlar® wristlet.

Product Brochure>>
---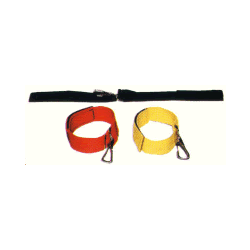 Glove Straps

Durable spring snap and easy-to-use hook-and-loop closures.